Posts for tag: root canal
By Jackson Dental Care
September 01, 2018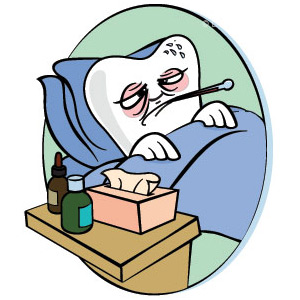 Which would you rather have — the flu or a root canal procedure? Nearly 80 percent of people recently surveyed by the American Association of Endodontists wisely chose the root canal. If this takes you by surprise, then let us bring you up to date on root canal treatment today. It's nothing like the experience that once made it the butt of jokes and a benchmark against which other "undesirable" experiences were measured.
The term "root canal" actually has two meanings. It is part of the pulp-filled chamber at the center of every tooth containing nerves and blood vessels that keeps teeth vital (alive). It's also the endodontic (endo  = inside; dont = tooth) procedure that treats inflammation and infection in this tissue. Common causes of pulp problems are traumatic damage (for example a crack, chip, or root fracture), deep decay, or gum disease.
The first sign of a problem is typically pain — ranging from acute and intense pangs when biting down, to lingering discomfort after consuming hot or cold foods, to a chronic dull ache and pressure, or tenderness and swelling in nearby gums. The primary pain may abate as the nerves in the pulp die, but the infection will continue, compromising the affected tooth, jeopardizing the health of the surrounding tissues, and often triggering secondary pain.
Pain-Relieving, Tooth-Saving Treatment
Endodontic treatment, by contrast, is no more uncomfortable than having a cavity filled. The tooth and surrounding area are numbed with a local anesthetic before the procedure begins. In order to access the diseased pulp, a small opening is made in the biting surface of the tooth. Tiny instruments are used to remove the pulp, clean and disinfect the root canal(s) and pulp chamber, and prepare the empty tooth interior to receive a biocompatible filling material to prevent bacteria from returning. A permanent crown may be placed over the tooth at that time, or a second visit may be needed. A crown (cap) is important to the tooth's long-term strength and functionality.
For a day or two following treatment you may experience temporary sensitivity, which often responds to an over-the-counter medication like ibuprofen. Occasionally, prescription medications, including antibiotics, may be needed.
All in all, doesn't saving a tooth sound easier and more constructive than coming down with the flu?
If you would like more information about root canal treatment please contact us or schedule an appointment for a consultation. You can also learn more about the subject by reading the Dear Doctor magazine article "A Step-By-Step Guide To Root Canal Treatment."
By Jackson Dental Care
August 29, 2014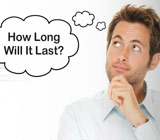 Tooth preservation is the ultimate aim of a root canal treatment. But how long should you expect a treated tooth to last? The answer will depend on a few different variables.
A root canal treatment is necessary when a tooth's pulp — the inner tissue made of nerves, blood vessels and connective tissues — becomes infected with disease. As the pulp dies, the infection spreads into the adjacent bone; this can eventually lead to loss of the tooth.
To stop this process, we enter the tooth and remove all of the pulp, disinfect the pulp chamber and the root canals, and then fill the chamber and canals. Depending on the type of tooth and level of decay, we seal the tooth with a filling or install a crown to prevent re-infection. it's then quite possible for a treated tooth to survive for years, decades, or even a lifetime.
There are a number of factors, though, that may affect its actual longevity. A primary one depends on how early in the disease you receive the root canal treatment. Tooth survival rates are much better if the infection hasn't spread into the bone. The earlier you're treated, the better the possible outcome.
Tooth survival also depends on how well and thorough the root canal is performed. It's imperative to remove diseased tissue and disinfect the interior spaces, followed by filling and sealing. In a related matter, not all teeth are equal in form or function. Front teeth, used primarily for cutting and incurring less chewing force, typically have a single root and are much easier to treat than back teeth. Back teeth, by contrast, have multiple roots and so more root canals to access and treat. A front tooth may not require a crown, but a back tooth invariably will.
These factors, as well as aging (older teeth tend to be more brittle and more susceptible to fracture), all play a role in determining the treated tooth's survival. But in spite of any negative factors, a root canal treatment is usually the best option for a diseased or damaged tooth. Although there are a number of good options for replacing a lost tooth, you're usually better in the long run if we can preserve your natural tooth for as long as possible.
If you would like more information on root canal treatments, please contact us or schedule an appointment for a consultation. You can also learn more about this topic by reading the Dear Doctor magazine article "Root Canal Treatment: How Long Will it Last?"