Posts for: June, 2015
By Jackson Dental Care
June 16, 2015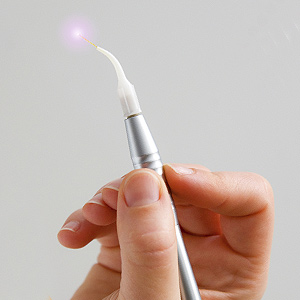 Since their development in the laboratory over five decades ago, lasers have found increasing use in our everyday lives. In the field of medicine, it's not uncommon to find lasers in the offices of dermatologists, ophthalmologists and surgeons, to name just a few. Now, some dentists are finding that lasers can offer an alternative means of treating gum disease — and one that may have advantages in certain situations.
You probably know that a laser produces a special kind of light — in fact, its name is an acronym for "Light Amplification by Stimulated Emission of Radiation." Essentially, a medical laser uses electrical energy to produce an intense and narrow beam of concentrated light. This light can be directed to a particular area, often via a fiber-optic channel. The laser's precision allows a doctor or technician to focus the light energy exactly where it's needed — to remove diseased tissue, seal off blood vessels, and sterilize a wound, for example.
For several years, periodontists — dentists who specialize in treating diseases of the gums — have been researching the use of lasers for treating certain types of gum disease. In standard clinical practice, hand-held instruments and ultrasonic cleaning tools are used at regular time intervals (3 – 6 months) to remove the sticky bacterial biofilm, as well as calculus (tartar), that forms in between teeth and gums. If that still isn't effective, gum surgery may be required to access the affected area, remove diseased tissue, and reduce pocket depth (the space below the gum line that gets larger as bone loss occurs) to prevent reinfection.
Recently, however, several new procedures have been developed that use lasers to accomplish some or all of these goals. One type of therapy uses a special laser that emits pulses of light with a specific wavelength (color) of 1064 nanometers. This light passes through healthy cells like a sunbeam through a window — but when it encounters darkly-pigmented bacteria, it vaporizes them instantly!
One of the potential advantages of laser treatment is its precision: focused directly on the area where trouble occurs, it targets diseased tissue but leaves healthy tissue alone. Another is that laser treatment is less invasive: It requires less tissue removal, and may cause less discomfort and tissue shrinkage (gum recession) than conventional periodontal surgery. And because it produces small amounts of heat, it can seal blood vessels and help control bleeding.
While lasers have long shown promise for treating gum disease, until recently it wasn't clear if they offered any advantages over traditional methods. Now, several studies have shown that certain laser treatments can be just as effective as traditional gum surgery in many cases — with the potential benefit of being less invasive. In the future, the use of lasers for periodontal procedures is likely to increase.
It's important to remember that no single treatment — not even a laser — can "zap" gum disease in one fell swoop. Controlling periodontal disease requires effective at-home oral hygiene combined with regular professional care. If you have questions about periodontal disease, please call our office to schedule a consultation.
By Jackson Dental Care
June 01, 2015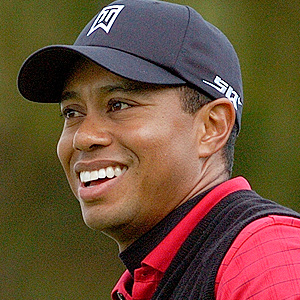 Let's say you're traveling to Italy to surprise your girlfriend, who is competing in an alpine ski race… and when you lower the scarf that's covering your face, you reveal to the assembled paparazzi that one of your front teeth is missing. What will you do about this dental dilemma?
Sound far-fetched? It recently happened to one of the most recognized figures in sports — Tiger Woods. There's still some uncertainty about exactly how this tooth was taken out: Was it a collision with a cameraman, as Woods' agent reported… or did Woods already have some problems with the tooth, as others have speculated? We still don't know for sure, but the big question is: What happens next?
Fortunately, contemporary dentistry offers several good solutions for the problem of missing teeth. Which one is best? It depends on each individual's particular situation.
Let's say that the visible part of the tooth (the crown) has been damaged by a dental trauma (such as a collision or a blow to the face), but the tooth still has healthy roots. In this case, it's often possible to keep the roots and replace the tooth above the gum line with a crown restoration (also called a cap). Crowns are generally made to order in a dental lab, and are placed on a prepared tooth in a procedure that requires two office visits: one to prepare the tooth for restoration and to make a model of the mouth and the second to place the custom-manufactured crown and complete the restoration. However, in some cases, crowns can be made on special machinery right in the dental office, and placed during the same visit.
But what happens if the root isn't viable — for example, if the tooth is deeply fractured, or completely knocked out and unable to be successfully re-implanted?
In that case, a dental implant is probably the best option for tooth replacement. An implant consists of a screw-like post of titanium metal that is inserted into the jawbone during a minor surgical procedure. Titanium has a unique property: It can fuse with living bone tissue, allowing it to act as a secure anchor for the replacement tooth system. The crown of the implant is similar to the one mentioned above, except that it's made to attach to the titanium implant instead of the natural tooth.
Dental implants look, function and "feel" just like natural teeth — and with proper care, they can last a lifetime. Although they may be initially expensive, their quality and longevity makes them a good value over the long term. A less-costly alternative is traditional bridgework — but this method requires some dental work on the adjacent, healthy teeth; plus, it isn't expected to last as long as an implant, and it may make the teeth more prone to problems down the road.
What will the acclaimed golfer do? No doubt Tiger's dentist will help him make the right tooth-replacement decision.
If you have a gap in your grin — whatever the cause — contact us or schedule an appointment for a consultation, and find out which tooth-replacement system is right for you. You can learn more in the Dear Doctor magazine articles "Dental Implant Surgery" and "Crowns & Bridgework."