Posts for: March, 2014
By Jackson Dental Care
March 18, 2014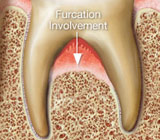 Although they may appear inert, teeth are anything but — they grow and change like other bodily tissues until complete maturation. Teeth roots are especially adaptable; teeth with multiple roots develop much like forks in a road as each root takes a different path toward the jawbone.
This fork where they separate is called a furcation. It's normal for lower molars and premolars to have two furcations, while upper molars traditionally have three. Furcations pose difficulties for teeth cleaning and maintenance. If bone loss has occurred around them, a condition called a furcation invasion has occurred. This loss is most likely due to periodontal (gum) disease, an inflammation arising from bacterial plaque on the teeth that hasn't been removed through proper oral hygiene.
We identify furcation invasions through x-ray imaging and tactile probing. They're classified in three stages of development: Class I describes early onset in which marginal bone loss has occurred, exposing a groove that leads to the beginning of the furcation; Class II is moderate bone loss where a space of two or more millimeters has developed horizontally into the furcation; and, Class III, advanced bone loss whereby the bone loss has extended from one side of the tooth to the other, or "through and through furcation."
Our first step in treatment is to remove any detectable plaque and calculus on the tooth surface, including the roots (known as scaling and root planing). These areas can be difficult to access, especially near furcations, and requires special instruments known as scalers or curettes. We may also employ ultrasonic scalers that use high-frequency vibrations coupled with water to break up and flush out the plaque and calculus.
We then apply antimicrobial or antibiotic medicines to further disinfect the area and inhibit bacterial growth while the affected tissues heal. As the infection and inflammation subsides, we then turn our attention during subsequent visits to address the bone loss around the furcation. This may involve surgical procedures to aid in re-growing gum tissue and bone and to create better access for cleaning and maintaining the area.
Finally, it's important to establish good oral hygiene habits and regular checkups and cleanings to prevent further complications or a reoccurrence of the disease. Maintaining these habits will help you avoid tooth loss and other problems with your oral health.
If you would like more information on furcations, please contact us or schedule an appointment for a consultation. You can also learn more about this topic by reading the Dear Doctor magazine article "What are Furcations?"
By Jackson Dental Care
March 03, 2014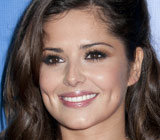 What if you had orthodontic treatments to enhance your smile — and nobody knew about it until it was all done?
That (almost) happened to British singer, cover girl and television personality Cheryl Cole. Since her big break in 2002, on the British reality show Popstars: The Rivals, Cole has had a successful music career, taken turns judging both the British and American versions of The X Factor, and graced the covers of fashion magazines like Elle and Harpers Bazaar.
And somewhere along the way, Cole wore an orthodontic appliance. It very nearly went undetected… until a colleague spilled the beans. That's when Cole was forced to divulge her secret: For a period of time, she had been wearing clear aligners on her teeth. Until her frenemy's revelation, only a few people knew — but when you compare the before-and-after pictures, the difference in her smile is clear.
So what exactly are clear aligners? Essentially, they consist of a series of thin plastic trays that are worn over the teeth for 22 hours each day. The trays are custom-made from a computerized model of an individual's mouth. Each tray is designed to move the teeth a small amount, and each is worn for two weeks before moving on to the next in the series. When the whole series is complete, the teeth will have shifted into their new (and better aligned) positions.
Besides being virtually unnoticeable, aligners are easy to remove. This makes it easy to keep the teeth clean — and can come in handy for important occasions (like cover-photo shoots and acceptance speeches). But don't remove them too frequently, or they won't work as planned. If that's a possibility (with teens, for example), aligners are available with "compliance indicators" to ensure they're being worn as often as they should be. They can also be made with special tabs to hold a place for teeth that haven't fully erupted (come in) yet — another feature that's handy for teens.
So if you need orthodontic work but prefer to stay "under the radar," ask us whether clear aligners could be right for you. Cheryl Cole did… and the results gave her something more to smile about.
If you would like more information on clear aligners, please contact us or schedule an appointment for a consultation. You can learn more about this topic in the Dear Doctor magazine articles "Clear Orthodontic Aligners" and "Clear Aligners for Teenagers."